Company Profile
PERSATUAN KEBAJIKAN RUMAH VICTORY MALAYSIA [PPM-012-10-02051997]
Since 1988
RUMAH VICTORY, a Non Government and Non-Profit Organization (NGO), established for the purpose of community services especially in the area of drug eradication. This welfare-based organization aspires to oer new hope for a victorious life for those who are misguided and in need.
Founded by THE LATE Mr. Philip MOK in 1988, the initial ministry of this organization was in drug rehabilitation and in meeting the need of the society, the following services were established:
 Life+ Rehabilitation Training Centre

Life+ Rehabilitation Training Centre Elderly

Home Children Home and Youth Life+ Building Centre
Founder of RUMAH VICTORY
— THE LATE Mr. Philip MOK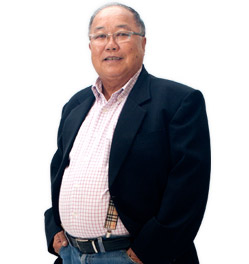 One of the main reasons for me to establish this Rehabilita-tion centre is that I want to give a shelter for the homeless whereby they can call this place as their "home". The word "home" has been a strong emphasis in our old folk centre and children centre.
All of us need a home. When I was a kid, I had a home, howev-er, I could not find security and warmness in that place. As a result, I became a drug addict when I was a teenager. I used to steal and rob from others to sustain my life. Even though I got involved in all these bad activities, I always remembered my home, brother and sister. I would bring the money that I robbed from others to give it my brother and sister and also donated it to old folk centre or children home.
After my rehabilitation program, the concept of home was always dear to my heart. Perhaps, I never had a home before. God gave me a vision and a burden to start a home for the needy. The home I am taking about is not just a building or a harbor, it is a place whereby you can experience victory, be transformed, and to stand strong again.
Our society has become more complicated nowadays; our children are facing temptation every single day. So the vision for "RUMAH VICTORY Children home" is to teach them the right values of life, to mentor and groom the younger ones. Even though, they may graduate from secondary school, and start to work, we want to contin-ue to follow up on them and to make sure that they do not fall back to the formal lifestyle.
We would like to advise the parents that it is important to spend quality time with your children. Learn to care and to teach them the right values of life. Besides that, mingle around and get to know their friends so that you will be a great help to your children not to be influenced by bad companies.
Chairman of RUMAH VICTORY
— Pastor Ong Kah Hoo
Our Dream is that we can have a place of our own to build our dream home. Hence, the purpose of this charity carnival to raise fund to fulfill our dream.
RUMAH VICTORY Children home is a social concern centre. We chan-nel our funds to care and help the poor and needy in our community. By our own strength, we are limited in our resources and finances. Hence, we want to extend this invitation to the public to support and contribute to our building fund so that we together can be a blessing to our community. Our target for the Building Fund is 1.5Million.
RUMAH VICTORY Children Home was founded in the year of 1998, until now, we had moved our centre 5 times, due to our tenancy agree-ment. Even though the house owner gave us the priority to purchase the building that we were renting, but we couldn't a…ord to pay for it. As a result, we have to move our centre again.
We were always on the move, and the leadership strongly fells that we need to have a permanent place to build our home. This dream compels us to start our Building Fund Project.